Im here at school after a week of bruising and sleepiness.
I went out with Ronni and Colin last night and i dont kow how i felt about it, Ronni and Colin always bring alot of stress to the table and last night i stood outside in the freezing cold waiting for them to finish making out.i dont know if its my place to complain.
Ive been going to some "ehhhh" garage sales, today i got a really cool plaid bathrobe, two skirts that ill put pictures of up later, and a few belts, one with a lion and one with this really outrageous buckle. Then i went to another and got two more belts and two pillows.i went to the swapmeet which i found out was closing and merging with escondido's which was sort of upsetting because ive been going there since i was a baby and i know all of the sellers and where the good places are and everything, mabye it will be alright,though. i got a cool bag that looks very much like something Nancy drew wouldve had, its a brown leather with buckles and its very beat up, like its been full of evidence and dragged along on many an adventure.I wish Nancy drew was still as fun to read as it was when i was in the fifth grade, i try to pick up a book every once in a while and i cant get back into the swing.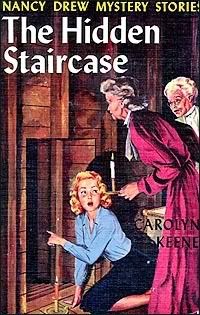 I also got a few board games to add to my collection, a Twister that isnt that old but ive been really wanting one (no board game collection is really complete without one) and a cheesy 80s board game called "Careers". Sort of like "Life" but funnier.im glad to be stocking up on all of these board games before the winter, and mabye ill find someone who wants to twist up with me.twister isnt really a board game but it comes in a box and is good to have around if you get sick of monopoly like i always do. im looking for a vintage "Clue" now, thats the coziest one to have,especially with popcorn!ill hope for one, because i really dont want to become addicted to ebay, i know i will.
After Bryan on friday i ended up scabbed and bruised in the funniest places, im sore all over.i think in my drunkenness i wasnt aware that i was contorting my body into strange positions to get comfortable.i think it would be for to go thrifting together, hed like it.
im excited for those new skirts, ive been feeling a little drab. once my skirts start feeling old, i end up going back to my blouses with my black shorts which i become too comfortable with and i end up in a very boyish outfit which i dont mind but it encourages my laziness. and ive got scarves to wear and if the shorts go back into circulation they might never see the light of day!
Matt hasnt called me in a while because hes been up in San Francisco, i hope he doesnt tonight because i need to scrub down my bathroom and it would be nice to get started on my homework.mabye take a nap too, because its work for the rest of the week!oh boy.itll be fun in my long-johns,booties,comfy sweater and crocheted hat, with my tibetan incense burning. it smells so nice and not flowery at all and i really do feel more relaxed after burning it, just as the box promises. ill try to make a trip down to caravan soon and pick up some more.
The little honey limbed koala is almost finished, what to do now? Ryan wants something, Mitch wants something, and i wanted to get started on that giant feather headpiece.Ill let that one wait, but as soon as these ones are done i need to get started on that lobster costume.AND DIET!i wouldnt want people to think ive been eating too much lobster.i need to get back on track with the diet stuff, today i had a bowl or raisin bran with bananas and before i left for school today i had some hummus and crackers.ill go for a nice long walk today and go eat some lemongrass chili soup. i hope its still cold when i get outside.