last night was bad, but this mornings emotional residue is a little bit more unsettling.
my horoscope-
New emotions bubble into awareness at a fast pace these days, yet you might not be able to acknowledge your feelings to those around you. It's not that you have to keep a secret; it's just that it's hard to find the right words to communicate your feelings effectively. Be as non-judgmental as you can; the easier you are on yourself and others now, the more you'll accomplish over the weeks ahead.
im a Cappy.
today im going on a science adventure with b. it should be an alright time, i think. i feel very rejuvinated, fresh and crisp. i think the new rained-out air has something to do with it, after it rains everything gets more clear, the rain gets all of the dirt out. there are still lots of dirty patches left, like my room (my closet door broke off the other night when jordan was over, it snapped and then fell off, he might be bad luck, now all of my clothes are strewn across the floor and spewing out of my closet) my chair of projects, and some yarn to use up. i ought to dust,as well, and clean the floor. its a shame ive got so much work to do.
i like the morningtimes and having things to do in them, its nice to have motivation behind my shower and breakfast and tea and washing my face like that. when its rushed its a terrible thing, i used to feel like i was running out of time sometimes, now i just feel like i have all of the time in the world to do things like that, finding things i want to do feels desperate.
im taking my hair down now. im having a very difficult time with it lately, i need to henna it again, too. i had a dream about bleaching my hair out last night, and decided i didnt like it very much at all. talk of a perm is still up in the air,though. its not like people take me seriously,anyway. today im wearing a plaid wool skirt, an ivory cardigan and a purple shirt with a pink belt and ballet shoes, pink, too. im glad i bought this crackerjack prize/bubble gum machine ring at the swapmeet. its a thin,cheap metal with two hearts on it, i like it. things like that make me happy for valentines day. thats over,though.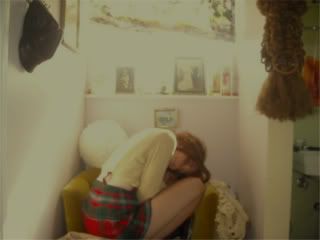 i dont have much of an appetite, im sweating, and my mouth tastes strange. its very dry out, and my skin feels bad, too. its almost like in stuck inside some tight film or skinsuit or something. well i guess i am all of the time.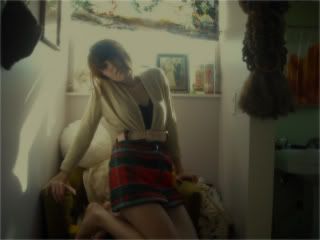 open your eyes!
our eyes are open!