today i spent too much at the first estate sale i went to to go to any others, but the one that i did go to was pretty alright. the best estate sales are the ones with lots of clothes, and this one didnt have hardly any, but it made up for it with a multitude of glorious chotchkies.
the only piece of "clothing" i got was this carpet bag, which is super plush and wonderful. ontop of this pile are:
-a puppy shaped perfume bottle, whose contents ill never use, of course, but he was really cute.
-alot of cool boxes and tins
-some vintage labels with a silver border
-an umbrella-shaped cookie-cutter
-hankies
-crochet hooks in cigar containers
-a pretty napkin ring ill make into something else, like a really elaborate hairpiece or necklace
-a cool measuring tape from a tailor's in chicago
-a tiny picture frame
-pretty earrings
-2 cute tamoshanter-shaped coin purses, one of which ill give to my cuzzie
everything was heavily marked-up, and wanda, the lady who runs alot of these estate sales, really harshed my mellow. shes rude and even though she knows im her best customer, she never haggles with me! i dont like that.
i bought two bags of notions and only glimpsed for a second at each one's contents before adding them to my pile, but when i looked at them in the car, they were stuffed with gems! my favorite bits were these old needle books.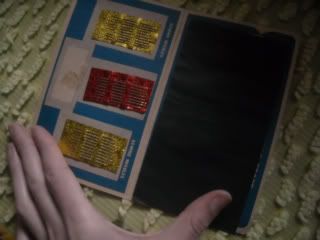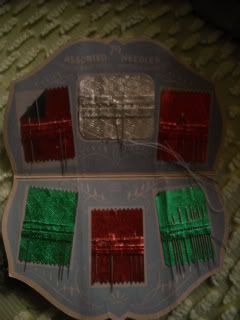 then there were these needles for use in furniture upoholstery and shoe repair and stuff of that nature.
..also, inside was my wish come true and i didnt even know it, tailor's chalk! ive been needing some terribly and always forget to get some. im glad about that.
and all of that goes inside of my new tinny-tin-tin..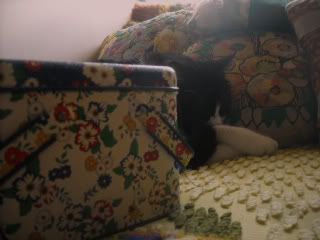 ..and between taking pictures and waiting for bryan to come over, i hung up my new picture, which i found in the attic of the farm and was given to my twin aunts by their french neighbor when they were tots.
tonight, im going out to some party which may or may not be that much fun. my little brother is going with us, and im glad bryan can come!