today we went to the swapmeet, which we havent been to for a long time partly because the weather's been a little nasty, also because ive been over-spending at estate sales. today we went out of necessity, to find gifts for my cousin and her boyfriend, and my mom wanted to find a funny something for her gift exchange. i tried really hard to make her buy a taxidermied squirrel being attacked by a cobra, but she didnt go for it.
on the way in, i spotted this gent carrying a giant stuffed elk (?) and i wanted to get a picture with him.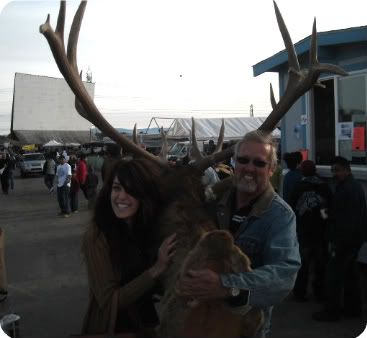 unfortunately, he was carrying it backwards, but you get the idea. jens wore an entirely beige outfit, made up of a rejected sweater intended for somebody else, and some once-brown jeans. i asked him if he was going to the beige-ing Olympics. i liked that joke.
anyways, i totally scored on some stellar fabrics and table linens(one tablecloth was an egyptian print i wanted to make a little minidress out of, but then i realized there was an orgy going on in the heiroglyphics, so i dunno about that) and a button box thats just glorious. also, some lady with clothes from a vintage dealer hooked me up with a really pretty green and blue 60s mini dress, which i love, but gave to my parents to give me for christmas. thats what ive been doing with my thrifted stuff, lately, just giving it to them to wrap up for me until christmas.
ive been up to alot, other than this. i made myself a new nightie for christmas morning, and worked on a ton of dresses, and a pillow which looks like a cats head. sadly, as ive been working on all of this, ive forgotten to find a prezzie for bryan! i havent gone berserk yet, but something needs to come together soon, or i might start stressing really hard and not have as much fun as id like.
im going to try to pull together posts for all of these developments.
sorry for the scatter-brained entry tonight!