just about two days ago i went to see devo with matt and aimee!
i feel guilty about saying that i cant stand bands with a really hardcore message,the de-evolution thing wasnt really sitting well with me, its boring and it really did take a whole lot of time.i suppose thats a little rude of me to say.
we danced,though.dancing is fun.i like it.especially dancing with matt!
ive been really digging on this school-marm homemaker frump business.its sort of minimalist, which is suuuuch a nice break from this silly bohemian thousands of bracelets and shoelaces around the head nonsense you see everywhere.i really like these cameos i keep finding, but i cant decide if theyre a little tacky...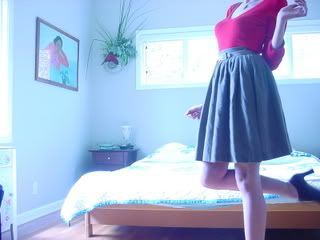 im also really excited about these great solids ive been finding,you can really just pick two and put them together and it makes for a wonderful pairing.im especially happy about the few peach colored scarves ive found, i love the way they look with my new hair,which i just henna'd.a couple people have stopped me and said they liked it,that makes me happy.