its supposed to rain today,if it doesnt rain, it better stay cold.im here on my frigid computer desk as the stupid window blows cold air in my face, but soon ill be on my bed working on my claws, watching a movie with cup of tea.
i went to some garage sales today, it wasnt so bad. i got a late 70's marroon pantsuit set, but im making the top into a dress and it should be cute. the collar is big and white,which i love to see in old collared pieces, but when its executed like it was in the 70s and eighties, it really is BAD design, so cheezy and ugly.i can wear it,though.ill just be a little walking joke.i bought a big tweed coat, which didnt fit me. there was no mirror, and my mom encouraged me to buy it, but when i tried it on i looked like a fat fur-trapper hot dog.i got some earrings and some big tassles, im not sure for what yet.i like tassles,though. this gold top was a prize, it was handmade and i plan on wearing it in a less revealing way,of course.im about to wash it, but by hand.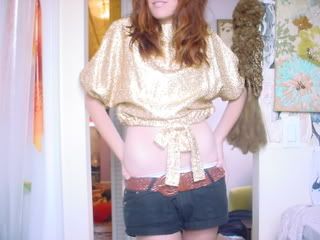 yesterday i got a cute pair of booties and a little mexican peasant blouse. i like the boots because the heel is old, it sets them apart from the granny boots that tend to swing on the hooker side.granny and hooker boots?believe it. these ones are a straight stacked heel and are actually pretty un-sexy when compared to some vampy little numbers you see at the mall.the mexican blouse was made for a little girl but i planned on wearing it with a higher-waisted skirt.it has such pretty embroidery on it,ive been on the lookout for one for a while.
tonight im supposed to be going out with bryan because there was actually no game last night.silly us. we should play ouija and careers and tic-tac toe on the truck bed, i think.im bringing sustainents.
heaven on earth!