im going to the homecoming football game tonight to see all the floats and some long-lost friends.i think we all enjoy these silly school events,and even though im not in highschool anymore its still fun.it stimulates some feeling of "oh hey thats us!"even though i dont really know anything about football, and have no feelings of pride for fallbrook high.its a really wierd thing.im wearing this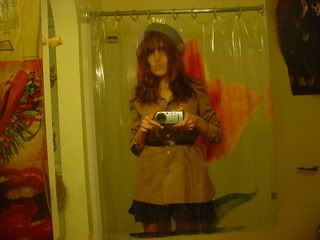 and going with bryan. i bought this hat in a thrift store on main street and at first i didnt like it very much, but it grew on me. just like with my boots, i need to give people time to warm up to the hats,because i love that fur one so much.its a white and furry little hair fascinator with a net that sadly ripped.
ive been waking up so very early. its 6:45 now, but ive been up since 5:20!
last night i spent some time with some friendly boy-type customers. they rapped about swimming and rugrats.
today im going to go thrift storing before work, ive got a half an hour to speed to all of the fallbrook thrift stores, but today ive got to carry all of my clothes for the game, plus two water bottles full of booze.im glad i dont have any homework to do or that load could break my back. ive also got to ask for a little money, i ended up spending way way too much with ronni yesterday.oh well.
im sick,as i have been all week.ive lost about 4 pounds,though.all i can really stomach is cereal,im getting very tired of it though.
oh happy friday!