yesterday i spent some hours fixing up outfits and coats and hats, but ive been feeling a little plain lately, like my clothes lack a real important something.i did different coats and different skirts with different blouses, but i had forgotten about my furs!that was the problem all along!the heat had put furs out of the question, but for some reason wearing furs this summer wasnt a problem with the chilly nights.
i grabbed all my stoles and hats and i was on the road to recovery from the heat.i spent the rest of the night going through my socks and tights picking out nice combinations on saggy beige and navys and greys and marroons and yellows. im mysteriously missing several pairs of my tights and socks, even a pair i just bought..a black opaque pair i really needed. theyres several pairs of peach and white knee highs that are nowhere to be found. im very organized,too so im suprised they couldve gotten off to somewhere.i suppose they could be in my closet.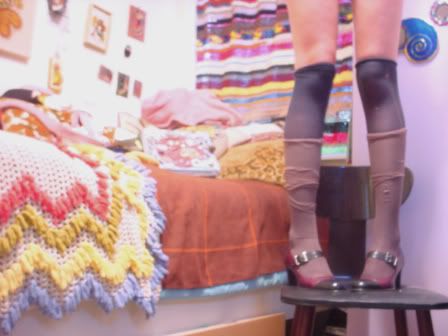 i slept in very late this morning, it was nice. i could wake up and go drift back into half sleep and i did several times, and one nice part is getting to sleep in as long as i want, for i am going into work later today than usual.
ive got got got to stop by the grocery store today and pick up some sunscreen and mascara, although ive been wishing to have my dad drive me to the store to buy me some so that i can pick up some things ive been coveting...i feel like i really need some peach colored eyeshadow and also some pretty new nail polish.i like pastels.peach just goes so well with my hair, i dont understand why i dont have any yet. speaking of which, i need to henna my hair again before too soon.i would today, but bryan asked me to spend some time after work, so i might just do it this weekend.
im supposed to be going to the homecoming game on friday..thats tomorrow,i forgot! i really would like to wear some heels, but im not sure if thats appropriate...these new booties go so so well with the layered socks and tights i love so much.im thinking my brown pencil skirt with my grey wool coat, and my big furry eskimo hood so that its not too serious.id like that so much with the brown booties...mabye with the hood it will balance the two out. we'll see.
my new movie is coming today i ordered garden state, ive never seen it and i think its probably a few years behind the times, but i figured it was important. i havent been really excited to watch any movies about love and loss, it makes me sad. i can usually set apart a few hours for feeling sad and resume a happy saturday after lunch,though.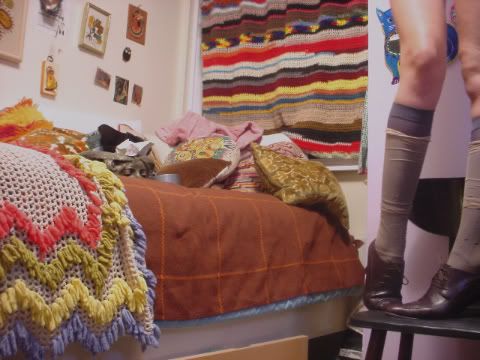 this weekend is sounding promising.