i slept all day yesterday, aside from the three hours i spent on the phone with sir bryan. we went to the mod party, which i loved, mabye too much, and i ended up facedown in a toilet at the end of the night and the beginning of the morning. more about that later.
today i went to the bookstore, the farmer's market, the fabric store, and the mall for my little brother to return a book he bought. i got a CD and a new pair of shoes, and i love them alot. we bought lots of delicious produce at the farmer's market, and the couple that sells their exotic fruits are always very nice to my brother and i. a woman who sells her honey set out some pollen for a bee, and the little happy fat bee sat and ate all day long.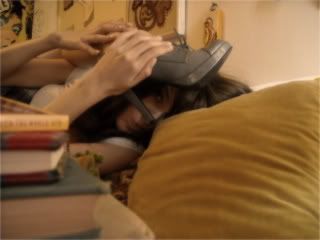 after sleeping all day yesterday im going to try and get alot done. homework, first...i guess. then i'll feel free to get whatever else done. once im done with the stupid song i have to write about terrorist attacks (to the tune of a billy joel song) ill sit in my room and write in my diary, mabye fix up some dresses and hang.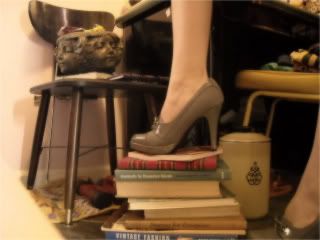 ill also spend some time flipping through all of these books my mommy bought me at a used book sale at the library. my favorite one is from the fourties about how to make your own patterns, and the patterns themselves are fantastic!! i also dont know how to use patterns yet, so that ought to be helpful. also a book on childerens crafts from the fifties, a book on terrariums from the sixties, and some books on vintage fashion and another one on shoes. my auntie sent me a vegan cupcake cookbook, too!!