the best days for me are sundays.
actually, i usually like thursday night-time, so if i could do this on thursdays it would be nicer...there are alot of things about sundays to not enjoy, like work or school the next day, but not today, no. ive gotten my homework done, ive cleaned my room, finished some big projects, watered my terrariums (including one bryan and i created last evening with my honey squeeze-bottle and his wonderful ideas and my neighbors moss) gone to the farmer's market, seen a friend, SWAP MEET-ED and ate some delicious guacamole.
truly, i dont really even remember what i bought. ill try
* 3 pairs of shoes -some pretty hush-puppy sandal-y pumps, some beige and black oxfords and some mocassins. i know mocassins are out and everything, but these were so un-native-y and obnoxious i had a change of heart. ill probably just switch them out for any sneakers or slip-ons i would usually use to go out for walks in or go to the grocery store wearing.
* a navy blue paisley sweater vest- the paisley swirlies are big and fat and looked like fried eggs
* a pretty-ish fixer upper pinstripe gingham dress with pockets, mabye soon-to-be a blouse or onesie
* a navy blue crush velvet double-breasted blazer for fifty cents (!!!)
* a very very old peach eyelet strapless cotton summer dress
* 2 wedding veils and a black feathery topper,too.
* a red pleated skirt
* 2 sets of rainbow christmas lights for my room
* a big ole box of bowling accomplishment pins
* a little indian violinist plaque
* a Junior Pilot pin, an apple core necklace and a mirrored ring that i think was used for doing lines off of, only after buying it.
* foot-size measuring sticks
* an old picture of a group of rowdy teenaged boys
...i know im forgetting some other things, but even if i wasnt i would have still done very well.
oh yes, i remember
a blanket and a pair of socks.
yes,those,too.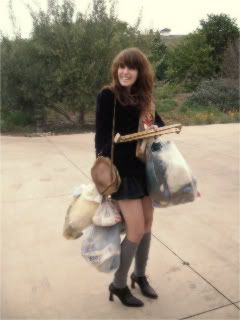 im a very brave girl to be wearing heels to the swapmeet, but im getting used to it.
these was a man who was screaming out "everything you can hold, two dollars!!"...that was the best part.
EDIT- and 2 uniform skirts and a wool dress