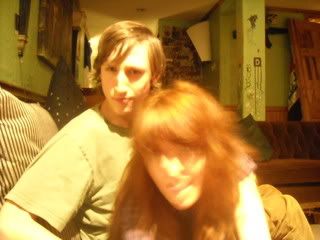 today i went someplace new with bryan and his fammy. i ate some delicious tofu and decided that bryan and i should come up with our own veggie burger recipie.
i think if i made my own veggie burger i would want broccoli and little carrot bits inside, i would want it to be a little like a falaffel, and spicy.
we played with cute doggies and napped on eachothers laps. i felt like a cat or a baby.
i ripped apart my room this morning finding something to wear, i ended up wearing something stupid anyway. i shouldve stayed in outfit number one. now i know im going to have to pair up all of my shoes and put them away, fold and hang, and then re-connect my plugs to the extension cord that powers me because the 'lectricity in my room is messed up. xena is sleeping in there,too.
when i was on my walk today there was a raingutter with tons and tons of snail shells spewin out. it was sad.