today ive only had one cup of cofee, convinced that less coffee equals better sleep and no need to sip after a while. im not tired, but i would like to have a cup every couple of hours to keep my appetite at bay.
instead, ive been busying myself with my first knitting project, a little row of flags above my mirror, reading "ITS YOU"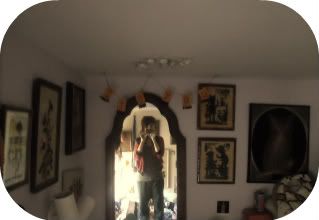 you can see my foil ball collection, but ive cropped it enough that you cant see my unfortunate ugg boots. ill only wear them inside of the house, but i tell you, those boots really make you feel.. ugly. i feel so dumpy in my ugg boots. they make my posture worse, they make me stomp my feet and they hurt my knees with their weight.
i like this. rectangles, yes that i can knit. soon i will know no needlework bounds, i think.
yesterday ronni and colin came over to read childeren's books, my choices were the giant jam sandwich, george and martha and frog and toad. ronni picked out the fairytales and colin got the boy books, all about africa, all about dinosaurs, and earths giants.
and who knew they made snak pack pickles?