i think i wrote about this the other day, but ill fill you in some more, over the span of a few weeks ive picked up a handful of denim pieces- a skirt with a big ruffle on the bottom which was once long but i shortened and is now very cowgirl-esque, and reminds me of the tiered denim skirt i posted about a few weeks ago in with some pictures of things i liked, the denim motorcycle vest that goes with everything but i cant really call a motorcycle vest anymore because i took the patches and pins off, and a denim jumpsuit i couldnt get out of the babysitters club early nineties rut it was in. this post is about the jumpsuit.
i dont know if its the lighting today, losing five pounds, or what, but today when i put this on trying to figure out what to do with i actually liked the sleeves, which i was thinking seriously about taking off.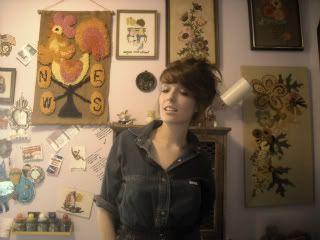 what do you think? the biggest issue i was having with this thing was that i had already cuffed and ironed the legholes after i had cut off the legs, and wanted them that way, and with the sleeves rolled up ,too, i thought it might look tacky, as if the legs and the sleeves were too long on me and i was too lazy to fix them. you see?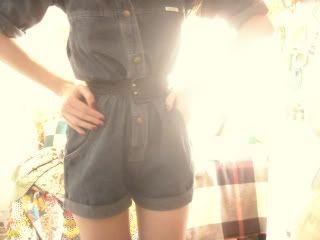 so i pulled the arms off and tied them behind my back and really liked what i saw, but when i put my arms through the sleeves a second time and popped the collar up a little bit it had a totally different appeal, and it wasnt even ugly, it was cool and tough, two things i rarely dress for. and if i saw them off i might really miss them, and not find many more pieces that project those things, and at the same time work for me.
what do you think? its the weekend now and ive got to make some decisions!