my giant clothing rack has helped me put together outfits much more inspired and well thought out than before when i can walk by and look at them every day. theyre not covered up by a closet door, so that im not panic-stricken when i walk in, and most importantly i can see every piece on its own, there arent any shirts crammed into the back or buried under shoes. i get to take in all of the unique qualities of every garment, instead of remembering the garment in just the big picture, and trying to piece together the rest and assume things wont clash, and hopefully compliment eachother last moment. its also nice to allow an especially garish piece to sink in and digest, so when im looking for something to wear, ive already established what it would be good for, how to play it up or play it down, and under what circumstances i would be comfortable in it. there are a good number of skirts and dresses and shirts that i have always enjoyed looking at, but that i couldnt couple with anything, another problem. one specific squaredancing skirt i bought a year ago off of the halloween mannequin at St. Johns is super flattering, says alot, and would be a good piece to juxtapose with a good pattern or something more structured, but i never found a top to fit the bill. my new dreamy denim motorcycle gang vest looked perfect last sunday,though, and i wore it to bryans open-mic with another skirt i had bought that day at the swapmeet, some peruvian woven, neon, ethnic print with cacti, people and donkeys all over that sort of looked like video game graphics.
last time i counted my shoes i had like 50 pairs or something, and it would be safe to say im probably at about 65 now, but i hate letting really interesting shoes that i loved at the time i bought them be forgotten at the bottom of the pile, so i have a few new pairs hangin around my bed for use soon. here are from left to right, a ballet-pink vintage sequined pair of slippers in my size so i dont have to break my toes wearing them, even though id be more than happy to, an off-white pair of suede 80s pumps with cool wing-tip embellishments in a tan and i love the toe shape, a marroon pair of peep-toe pumps from two beautiful russian women, and a pair of tall red suedecloth wedges i bought at the mall on supersale for like 7 bucks.
ignore the dusty dirty paper scrappy floor, i swept and scrubbed my bottom off this morning. i woke up at ten, and had alot of dreams, ones that i remembered more and more vividly everytime i woke up-once to my alarm, another time to jens leaving for school, then a phone call from my mom. the wierdest one was bryan and i living in a Grapes of Wrath-y camp for homeless people looking for work, and it being his birthday. also, john travolta and the rest of the T-Birds from Grease the movie were there.
now im going to crack open my political science book. its so annoyingly sassy, at one point it read off the typical schedule of a college student, and when it got to this course being part of the curriculum "your favorite class,right?!" followed the information and important stuff. it makes me feel like an elementary school student.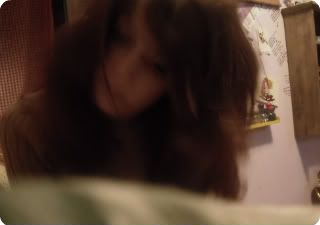 also, i completely forgot to do my driver's ed over the last few days and i cant believe it, so ill try and finish it tomorrow.