feels just like yesterday i was posting my one hundredth. neither mean much to me more than a time to spend a little while figuring out if writing and taking pictures and "documenting" are worth my time.
happily, my two hundredth post's contents will be good and not senseless blabber, i made a dress today and thats the sort of thing i like posting about the most. its a multi-tiered, christmas tree-shaped, polyester fray-fest (ive never worked with fabrics so cheap! theyre falling apart as i type), comprised of two secondhand scrap fabrics-a lime green and an aqua plaid-y, scribble print.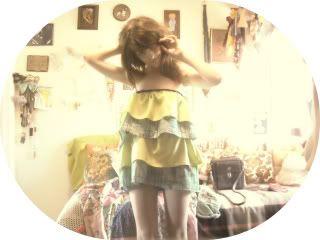 the raw edges and gross undersides are a sight to behold, so poorly done. i cut everything out before i started, it sounded pretty easy, but no-sir. i saw this cute prarie floral triple-tiered dress in a little 60s fashion video a day or two before i made this, and because i didnt have two patterned fabrics that went well together, only patterns and solids, i decided four tiers would be much more complimentary.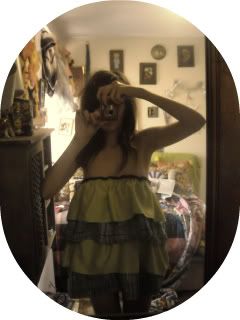 like some sort of swamp monster.