my cousin came down from san francisco this week, and us Lueschens all came together over a swapmeet and lunch, and im still so full.
sonja and i had the best time looking for things together, and suprisingly there werent any fights about who got to keep what. she and my mom liked the old pictures, and sonja and i stumbled upon a pile of beautiful old fabrics together,too. the old man who likes to hug too much was, as always, the best stand in the whole place, and everybody got something good there. oh, and i got a table that is now holding my towels, which always ended up on my permanently dusty floor without something to lay folded on.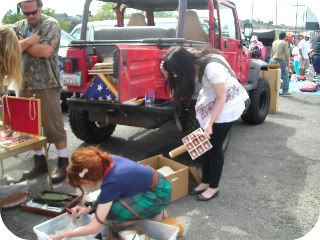 this stand had the most old pictures, the biggest & hugest treasure trove of pictures being an old album of a famous old movie costume designer, who raised wiener dogs on the side.
sifting sonja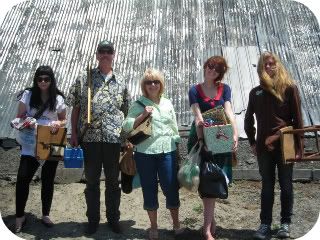 standing at the drive-in screen at the end of the rows.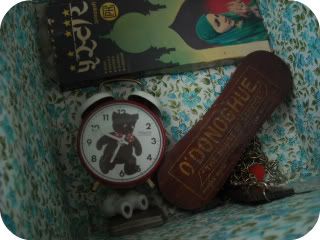 the goods
the things im finding are turning out to be more and more useful to what i make, or what i need, or what id like to see my room turning into, not just things to put someplace and thats really refreshing. ill scan some pieces of my new fabrics someday so you can all see. not getting back ninto the house until 2 was different and good,too.
i bought an eyelash curler, my first, the other night and oh my, what a freakish device. i cant get my eyelashes inside, and when i do it jut rips off the mascara-d tips, and clumps together all of the eyelashes, ill still use it,though, hoping to make my eyelashes effectively curl someday.