this really interesting little lamb bowl is now holding some pens and a santa head on my sewing table, and its eyes are very helter skelter.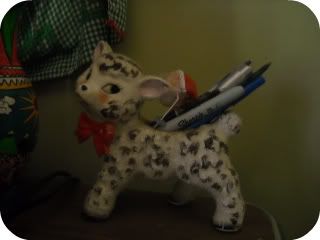 this is the really beautiful purse i bought at the swap, the one that needs fixing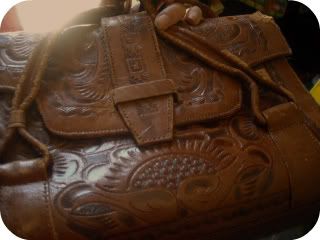 xena sniffin and checking out my yarn and slippers and dust bunnies
AND a little bit on the letters ive recieved recently, one from Sunshine, filled with vintage buttons and some butterflies and a little wooden scotty dog thats now in my collection of really small things..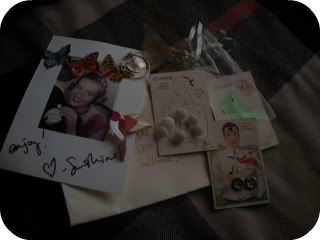 a letter from cousin sonja, also packed with pretty things like an old picture, bears on bicycles, and a locket with a kitten inside..
and my response to sunshine, which i hope she likes, ready to be shipped away as soon as i get a stamp on it.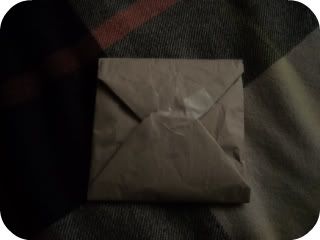 cereal today was apple jacks, this generic brand kashi-like cereal, and granola.
after that bryan and i spent an aftenoon at his house, we went to our favorite burrito stop and found their burritos to have lard in them (more on that later, mabye) and went to the health food store for cookies with ingredients like carob that some people havent eaten. i lost my appetite for cookies but will never lose my love for bryan! and i am now heading off to my class, am going to try to concentrate and once i come home i will have forgiven myself for being a loony jerk to my boyfriend.
oh, and ive got new dresses in the works!