yesterday bryan got out of school for the week, and started his 4 day weekend. we opted for a few hours out of town instead of the usual cafe primo trip, to get some sunnies for mr. bryan at Vintage Sanctuary, a vintage shop in oceanside thats been infiltrating the oceanside swapmeet much to my dissatisfaction.
sunglasses were right in the front of the store, and with a few turns of the display it was clear we were going to just have to go look somewhere else. bryan is trying on the internet now. we went back to fallbrook through some backroads that were pretty to look at and sometime during the day a fire was set in camp pendelton, which turned the sky intense colors and made it look like a big opal. we got greek food, and, as im super comitted to my diet right now, iced plain coffees (not my usual soy latte with 2 bags of sugar).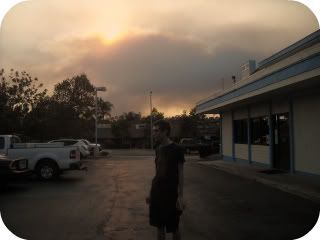 i wore a new/old handmade (which i only just noticed) late eighties patterned dress with really interesting straps on the front and pockets. its periwinkle, which i have no other pieces in and i liked it for that reason,too.
when we came home we ate, made more coffee and tea, and turned on the tv to watch requiem for a dream, a movie ive never seen and bryan suggested i ought to.
today we'll meet up with some people we dont know very well for an afternoon, and ive got to, in the meantime, make an outfit for the date and get some homework done!