over the last 3 or 4 months, ive been dealing with a ever-present backache that just wont quit and leaves me bored and angry when it disables me from being able to sew (bending over to iron, taking clothes on and off, cutting fabric on the ground). in the last 4 or 5 days its really gotten a whole lot more painful, though, and the timing couldnt be worse as ive got a stack of clothes in need of repair that just keeps growing and growing. also, ive been wanting to dive into the pile of work to get done so that i can have a whole new coupla outfits come schooltime in january, but alas, ive been forced to cut WAY back on the amount of time i spend sewing and the pace ive always worked at has slowed down from no funny stuff, serious sewing all day every second, to a relaxing, "sewing is a hobby i picked up" type work.
but today ive decided instead of laying on the couch, hating every second of my life and feeling like a failure because im not making the most of my time, im going to give myself a bit of a sick day and do the stuff i dont usually allow time for like mabye a nap, a better blog post, some hand sewing (hopefully!), quality time with my cat and any other lazy stuff and funny business that i dont get around to too often. mabye ill bake some cookies, too. not that i need any since im carrying around some extra blubber from thanksgiving, but its so much fun and i will want to stand up at some point today. i cant think of any reason better for getting up off my bum than to go make cookies...word.
ill probably spend alot of this time on the computer, also, peeking around my favorite blogs and seeking out newer ones im unfamiliar with. does anybody have any suggestions?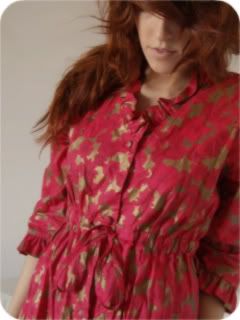 ill be back later today.
photo from Erika's etsy listing! somebody bought a dress with me in it, cool.