SO!
im sorry for being so noticeably absent from the blog lately, mostly this has been because ive been busy getting this college stuff finished, but also i just completed highschool (if i didnt already say that) and ive been pretty much in pjs, sewing all day, or havent remembered to take any pictures while dressed and out!
one other exciting thing thats just happened has been that my new friend, Erika, had asked me to model for her etsy shop and we just got around to it. she had a bunch of really gorgeous things that i loved, one of my favorites being this cute cute blue dress. its really pleasant to have a friend who enjoys thrifting and garage saling and handmade stuff as much as i do, and i have none already, so shes sort of my hero.
you can find her Etsy store under the name of "xhereliesbootsx", or www.hereliesboots.com
haha i brushed my hair for these pictures!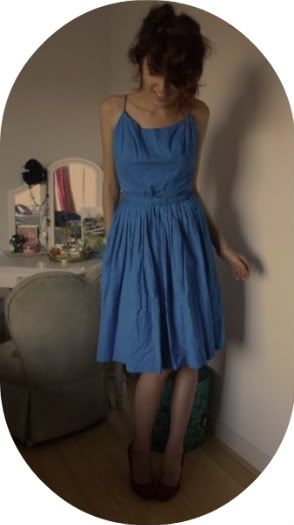 this all went on sometime last week. This weekend has been irregularly active for me-today i went to the swapmeet with my extended family and had lunch + dinner at our home, Saturday i saw some friends who i dont get together with and went to some really good yard sales, and friday i went into a bigger city with bryan to buy electronic thingies. that sounds like a really boring weekend, but for somebody with no friends like me, having chores and errads to run and things to finish makes a weekend more busy and gets me out of the house.
..a million posts to come from all the fantastic second-hand things ive found this weekend!