today i was assigned an art class, and after school my mother and i went to the best thrift shop for patterns, scraps, yarns, buttons and the like. i picked up a couple wonderful things that will help me to make a good project, and that ill like to take apart afterward and use for my own purposes.
it was really hard to stay on task. there was a pretty blanket i had my eyes on, and i knew that sifting through the racks would yield many good things. i did get one thing for myself, rather a set of things-a vintage set of separated-section metal trays, painted a pretty red.
keep in mind these bits will be a part of a collage-y thing once completed, but here.
funny old sockies
an embroidered woodland clock. im thinking that afterward i could attach a clock piece to this, insert it into a generic clock frame (im not sure what thats actually called) and put it to very good use.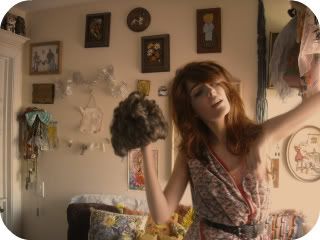 a wig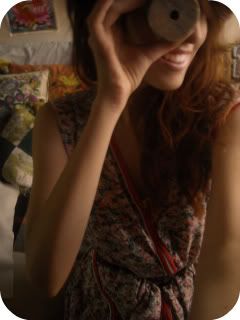 a spool of old curling ribbon. "Rippl Tie"..
..and a few more, less photogenic, items like a handful of small candles, a wooden plaque, bells, some patterns and an old crochet book with some really great pictures and ideas within.
other books, pamphlets and miscellaneous reading material that ive been glad to have found lately are my 1973-74 Seventeen magazines that my mom picked up for me at a book sale at the library. the articles are sensational, as are the advertisements and fashion spreads. exciting!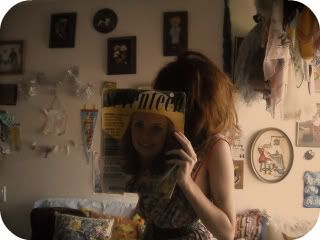 everything else
-bryan and i spent the night at his brother's house on halloween, went to bed early and didnt do anything particularly spooky, but had a nice time.
-jens and i are really into informercials for the Redi, Set, Go! cooker, we like watching the program on youtube alot.
-ive put together a few more dresses, but havent yet worked up the courage to modify this glorious austrian-made fifties dress i found in a garage at an estate sale a few weeks back.
-ive been assigned my last classes today!
-i missed the swap meet on sunday, which is fine, but im currently experiencing pretty intense estate sale and thrift store withdrawls and i cant wait to get to some as soon as i can. i might ask to go by myself this weekend sometime.
-i became ill this time last week, which caused me to lose my voice in a funny way and put me on ear-infection patrol, but its now fading off into a silly headcold with sneezing and a little sore throat.
now that halloween's passed, i can get excited about thanksgiving and christmas and my birthday, which i like. if only it got cold here.