one recently completed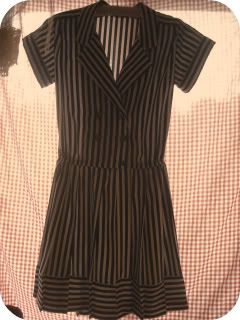 this was a calf legth eighties disaster with giant sleeves. i changed the buttons from gold plastic to wood, re-attached the bottom horizontal stripe bit after taking a whole lot off, shortened the sleeves and a few more things for a better fit.
this one is still in the makes
ive been talking about it alot, but today might be the day i complete it. sleeves and buttons are what i have left to do on this one.
today has been long and terrible, but the worst is yet to come. the not bad parts were when bryan and i want to the cafe, then the airpark. i organized my tights and stockigs into a white vintage suitcase i bought at the swapmeet. working on my dress has helped make today better,too.
it might rain soon!