things that excite me about graduating so soon..
-junior college, taking interesting classes in sewing and fashion, if i can, and learning new things!
-getting to spend the entire day sewing and mending until i begin these classes.
-actually having somewhere(other than cafe primo and my house)to wear pretty clothing where people will see me. this isnt as vain as it sounds, im not interested in being on display at school so much as id like to get use out of the pretty clothes i have so many of!
-thinking about my someday etsy and all that goes along with having a mini-business, which for me would include selling, sorting, hunting for, mending and making decisions about what to keep and what not to.
-free time to paint my room, which i just havent had the time for and ive sort of lost my steam for such a giant undertaking, but not completely. it would make me happier.
-riding my bike, going on more walks, being overall a more content, relaxed person with not as much to worry about.
...and a couple-a others!
this week has been slightly more relaxed than not, but im still dealing with the same anxieties about schoolwork, current projects, people, robbers, intruders and serial killers and ghosts that i usually do. what has made it better, i think, is that at the end of every day this week, ive had the time to spend a few hours either by myself sewing, with bryan out and about, with my family, or baking.
i started a smock-i plan to wear it as a dress-from a pattern i bought at the swapmeet a few months ago this last week, when bryan was over and drawing a picture. the pattern, like so many that i buy, was ultra massive, which has taken up half of the overall time spent on it just taking it in all over, but im close to being finished. all i need to do now is adjust the pockets and re-attach them, hem the sleeves and the skirt and then comes buttons + buttonholes. i complained about it being the same color as a surgeon's scrubs and looking a little bit like one because the sleeves were so boxy, but im making the adjustments i need to to make it wearable.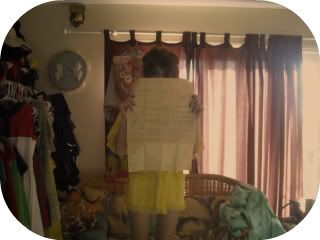 this is my very messy closet/sewing sofa area. im holding up some unclear sewing instructions.
i baked some truly delish vegan nanna + peanut/almond butter + walnut cookies this week that i ate for breakfast on some days and through the day until they were gone. i shared a few with bryan and he liked them too. baking is something i love because its unlike sewing in that there arent very many mistakes i can make as long as i follow the recipe, and i dont ever need to take out part of it, adjust, then put it back together. its just step by step, unlike sewing where, at my skill level, everything needs to be done and redone and done again many times before its complete. it makes me feel good to make treats that i can eat and that my family likes too. i sometimes put the two together like theyre alike somehow, but i enjoy them in very different ways.
whether it be for room color inspiration or for fabric and trim and button combination ideas, ive been enjoying collecting ideas from my mom's gardening books and other old books. mostly because i like light greens so much and they use aot of them in combinations with red or black or gold.
cool dishware in a vintage shop in blue, yellow, greens and brown.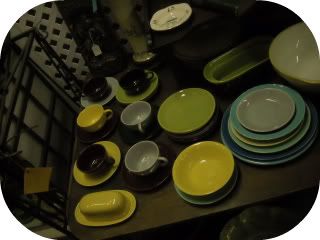 yesterday at the swapmeet (for the first time in a while) yielded a ton of pretty things. like ive said before, halloween at any second-hand shop or swap meet is the best time to find cool vintage things that people regard as junky or costumey. in one such stand selling mainly costumes i found a glittery squaredancing blouse with dancers stencilled on the collar, a mod blue dress, 2 paisley peasant dresses (one which isnt as great as the other because its fabric is just so wierd) and a pinafore!
all with their own post soon.
this week is going to be busy with bryan's birthday, halloween and any plans to take a trip this weekend, plus lots of baking vegan treats for both bryans birthday and halloween. since we cant eat candy, i think cupcakes would be a good option for us. im excited and glad to have things to do, and bryan's birthday will be fun! i found him something really cool on etsy but it probably wont get here on time, but thats not so bad. oh, and carving pumpkins! mabye we'll do that tomorrow.