during my desperate ebay and etsy searches for a present for bryan the birthday boy, i found this really gorgeous charm-a little boys profile with "Bryan" inscribed on the back. i stupidly thought about getting it for him, but then duh what would he use it for, so i might just indulge in the 15.75 pricetag (which could go up i guess..ebay, blegh) and wear it myself. wouldnt that be the sweetest?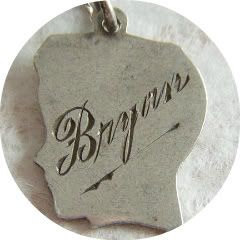 mmm...what a good girl id be!
tonight ill ponder this possible purchase, while i finish off a few of my little brother's t-shirts. ive just completed the reba mcintire concert tee,so funny.