tonight, in my real life, i am looking at the ceiling
and pretending to walk around like a fancy person.
i am also flipping through my inventory of pretty fabrics, recently purchased from the flea market and garage sales. im probably not going to make anything new soon, i figure ill only get better when im taking these fashion classes come january, so why dont i just hold off for a little while?
this lace will become a pretty collar.
and this pink, im imagining, will one day be a cute little shift with the matching trim that came with it.
here are a couple more-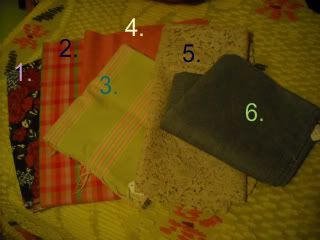 1. a jumbo floral
2. loads of pretty, summery plaid for a dress
3. a stripey, nubby guy
4. that salmony-pink, sturdier fabric ive got plans for
5. a lace sorta thing with a coupla stains, but i wouldnt have a hard time working around them
6. i always need chambray!
i am also wearing a fifty-cent sweater, thinking about my driving class tomorrow and glad that my cat wasnt killed in a freak accident today.