but before i hit the hay, i thought id let you know im taking a vow of internet silence for a couple of days. in the meantime, ill be working on some projects and tomorrow im testing for my driver's license! UPDATE:i am going to have to wait until january 15th, my 18th birthday, to test for my driver's license which gives me only three days between my birthday and the day school starts..im terrified.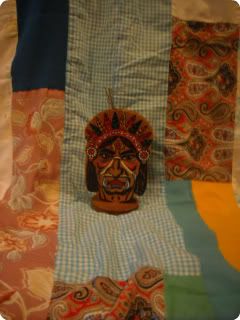 this guy has a bunch of pencil-sized holes drilled into his head. i dont know what to put in him yet, i thought crochet needles at first, but the holes are too shallow. maybe darning needles.
lots of new yarns and stringy, twiney stuff for crocheting more necklaces! my cousin and i worked on some this weekend when she spent the night here, and its sort of getting me excited about crocheting, again.
my main project right now, which i just started embroidering tonight. the stitches will be red, teal and black.
be right back!