curling my hair isnt that much of a pain at all anymore, and ive currently got roots-a-plenty and need some sort of distraction from my sorry scalp. feathered flamingo hats help, too.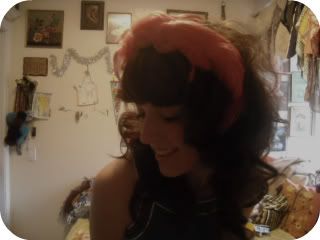 this blue dress looked super sixties to me, but when i got it home it was a 90s Macy's brand..pretty bizarre. i like it, though, so im breaking out another weird 90s/60s dress hiding in the back of my closet for a hemming and re-fitting.
ive got so many knittin/crocheting and sewing projects im trying to get done now, i dont know where to start, hardly! happily, as soon as this square dance skirt is done and ive presented it, ill be able to hang out for the rest of the semester without a worry.