..as you can see ive decided to go ahead and change my blog's and other stuff..not sure if im going to keep it forevs but for right now im pretty pleased with it.
i actually do my own "business casual" friday thing just because i have a really boring and long workshop on fridays, because i have to take the bus sometimes (and walk home) and because i want to save my cute outfit for going out after school, not waste it for class!im not great at it most of the time (im giving up shorts forever!) but this outfit was certainly comfortable and dressed down compared to how i normally dress for school but i still felt presentable.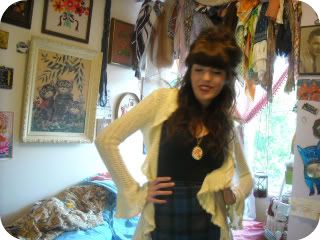 how do you guys feel about v-necks? i hate how trendy they were last year, but i also feel like its a really flattering look for me. a little bit of a pickle. i wore it with a high and short plaid pencil skirt and this crazy sweater (are these called dusters?) i got at the swapmeet a few years ago. the necklace is a plastic floral pendant, and im wearing new lipstick called "wine with everything" which is the weirdest name ever and definitely not my policy! during the week its mostly dresses, since its not necessary to wear pants anymore with it being springtime n everything. does anybody else have a major problem with separates? its a hundred times harder for me to coordinate a skirt/top combo than it is for me to like..sew a dress from scratch.
last week i talked a little about gaining weight and im sort of at a wierd point where i feel like i can either become comfortable with my plumper figure or whip myself into shape once again. a big motivator for me to lose weight would be that i cant fit as well into any of my other dresses with my current figure and thats depressing. at the same time i like having a more feminine shpe and my face looks alot better, in my opinion. being thin made me feel like i had a body for clothes, and being heavier makes me feel like i need to start buying clothes for my body, which sort of takes some of the fun out of thrifting. i pretty much would buy anything, any shape and at any size knowing that i could fit into the smallest size or be able to nip it in if it were too big..i dont want to not be able to do that! anyways im being very vain about it all and i dont want to irritate anybody. it is something thats been on my mind enough that you all should know whats up.
today i went thrifting which was pretty good.
final tally
-2 dresses
-1 pair of plaid 60s sheets
-1 pillowcase (which im planning to crochet a scalloped edge on with that new tutorial i think on craftzine..?)
-1 cushion i gave to my friend who needed it
-a couple of zippers. one of them is really big!
-1 thread rack YES i needed this so bad.
-1 pair of boots and a pair of boot-IES
- a cool barrette
also i got a cute orange colored necklace for my friend to take apart.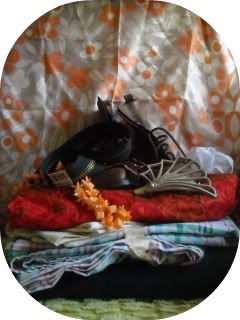 ive got a little cold, so tomorrow i may either do homework, feel worse and sleep all day or ideally feel better and go to the flea market (followed by homework). i work so hard in my classes, every single day i have like 3 hours of work, its nuts!