curling my hair has got me spoiled and now i dont want to have it any other way! this week, my favorite hairstyle has been when i curled it and pinned it up to look like a shorter 'do. i wore it with a hat that i love.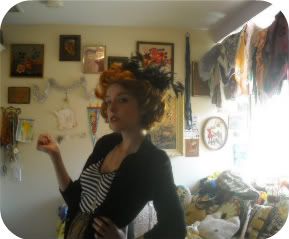 do you guys have a favorite hat? i do, but it would be easier to pick a favorite winter hat and a favorite summer hat, separately. its basically already like summer here! in the day its burning hot and sunny. ive lost my sunscreen, which makes me want to stay out of the sun all together, but ill have alot of time to enjoy the warmth and shininess in the months to come.
have i told you guys i have chickens? well, if i havent, i do. and theyre just starting to lay eggs! freida, the biggest most glorious chickie of all the bunch has been laying double-yolkers. two days in a row! thats supposed to mean good luck. i think shes just a special big girl.
im going to our school's fashion show on friday and the rest of the week will be full of sewing to get ready. i havent submitted a collection but next year you can bet i will! im excited to see what everybody put together.
im embroidering this just to pretty much cover up a bare wall that i now have since ive been re-arranging furniture.
i wish i had a 40s frame, since the pattern is said to be from around then, but instead itll be in a yellow, late 60s or 70s frame from the flea market. i have to clean out all my craft goodies so i can get more!!