school got out a little while ago, and as soon as i found a gap of time between little get-togethers and errands to run, i went and got my wisdom teeth removed. it was really fun, and the gas mask they gave me for the laughing gas was creamsicle scented..amazing! now im stuck at home for a little bit, working hard on etsy stuff (today im embroidering a banner, i think) finishing up some little knitting and crocheting projects and hemming things..all the fun, cozy stuff i can do from my bed.
heres a picture i took during finals week when my hair was crazy. i threw on a cute bandanna headscarf thing. i love how vibrant vintage pieces of red clothing are, do you know what i mean? its almost like they were dyed in some sore of radioactive goo.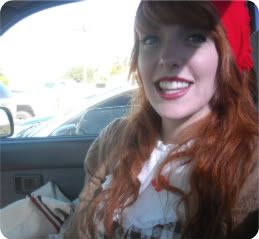 since then, ive got all my hair chopped off! i have been too lazy to curl it and take any pictures of it, but imagine it as some sore of fluffy, puffy round bubbly 60s 'do. i love it! the only thing i dont love about it is that i cant really just wear it natural, or i look like a soccer mom. oh, well!
i went to my first swap meet as a seller with my pal Erika a few weekends ago, and nothing of mine sold at all! except for a pair of gloves. and the two dollars i made on those went into buying a neon purple muumuu, so i had fun, but no profit. erika sold a few bags and things. i cant wait to have my etsy up n running!
oh, and i forgot to mention that i now have a license and my dad's old car! thrifting, garage saling and all those things i can do all the time now! as soon as i recover from my late night and early mornings of this last semester, ill be a force to be reckoned with.