The weather just keeps getting warmer and warmer, and now im even more happy i cut my hair off! summer cuts are good ideas.
Today was a sizzler and i went to reggae fest (some lame reggae event held downtown, marketed towards the younger fallbrook citizens) just to check it out. Then i headed off to the mall to enjoy the air conditioning and found some cosmetics at sephora worth saving my pennies for..High Beam, which ive never tried before, and some pretty, pretty eyeshadows and NARS lipsticks that looked so nice. Im filling out an application online for a job at F21, or some sort of weird store that sells it's merchandise. Hopefully, that works out. Then i made banana bread, dropped off my little bro at his buddy's house for a sleepover, and now im here..praying my parents will want to go to the swap meet tomorrow.. i havent been in such a long time!
My little bro burned me a copy of Yma Sumac's "Voice of the Xtabay" and i couldnt be happier..since getting the car i havent had any good CDs and im excited to drive down the street jammin to her!
here are some pictures of today, and the debut of my new haircut! i love it.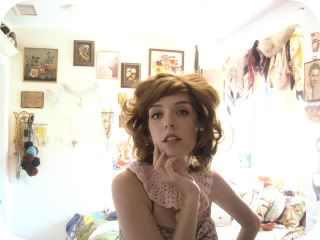 pretty jazzy, no?
the only other time ive had my hair short, i felt like i couldnt wear certain necklines or dresses..but this time i feel like dresses and collars and scarves look better than with long hair! i like it. i feel chic and a little more grown-up.
i bought a new lipstick last night..im becoming a lipstick addict! how did i ever get by without it..
tonight ill try to
-finish my embroidery and pack off sinead's ACC for her final installation
-paint my nails
-clean up my school dressmaking patterns, still lying around a month later :/