Alot has been going on in my life over the last month of breaktime between regular school and summer school..looking for a job and being awful in interviews, getting a car, starting up my etsy account and ending and beginning relationships. its all been really fun, for the most part, and i feel like ive experienced a handful of eye-opening things over the last 5 weeks.
Sinead and i have been hanging out all the time and trying our best to go out and do things on the weekends. Normally our efforts dont bear any results but this weekend should be really fun..saturday were going to san diego, tomorrow im going to the estate sale to end all others and sunday i might find something else cool to do..im looking forward to it! right now i have a banana cake baking in the oven so tomorrow i can bolt out of the house as fast as possible..if i dont have my breakfast in the morning before an estate sale, i get even more overwhelmed and crazy..so just to maximize my efficiency, im planning ahead.
Last weekend we hung out with my old bud Ryan and his friends..we stayed up really late and his roommate is getting kittens, so you can bet well be back soon to play with them.
Ive been putting my hair in curlers about every other day, and i was forced to do a wet-set one night when i didnt have alot of time. eureka! it took very little time and stayed in 2 or 3 times longer than my regular type. But i still feel like other girls are getting way more life out of their curls than i am..do you guys know of any special magical potions that could help my curls stay in place all day long?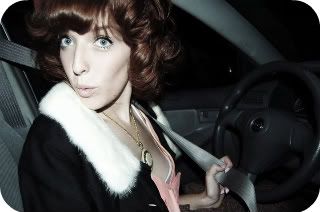 i love having a car!