rarely do i do anything exciting on a friday night, but last fridays festivities were more fun than most. sinead and i met up with our friends ian and anthony who weve been hanging out with alot lately. we hung out in the trunk as the cars filtered out and the mall closed for the night, and ian (who is responsible for the photo shoot from the other day) took some funny pictures.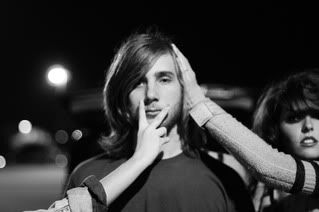 i set my hair in rollers and ive been really liking the somewhere in between short and medium length of my hair at the moment. i finally broke out my gold tinsel hot pants with a black bustier, black tights, black kitten heels, and a collegiate-inspired cardigan. plus a gold locket- i enjoy separates when i can put a good look together and i thoroughly enjoyed the marching band theme in this little get-up.
sinead wore a purple blouse and a neon, hawaiian 1980s beach coverup skirt with black boots and scrunchy socks.
today it rained, which is a weird thing to have happen after this heat wave. it was more of a sprinkle, but it still left me soggy and miserable. i also ran into my ex which was uncomfortable. then i just left school because i didnt want to run back to my car to get my stuff..and id still be there, so im happy to be home on this chilly night.
im still lonely, though.