..so my birthday wasnt much of a success, unfortunately.or at least the party part. i ended up hanging around with 6 or 7 coworkers that i dont really know or want to know, and left at 1:30, after having drunk a few (actually really delicious) jungle juices (obviously with time to get sober between drinking and driving) and overdrawing on my card AGAIN for gas.
i got really dressed up, which was fun but nobody seemed to really understand why i was all fancy.
i've sort of renewed my excitement for fashion, after trying to adapt a new look without really having the resources to completely make myself over. for right now, im transitioning into more black, a dropped waist (which happens to be a better cut for me than a full skirt at the real waist) and lots of fun hosiery and shoe combinations.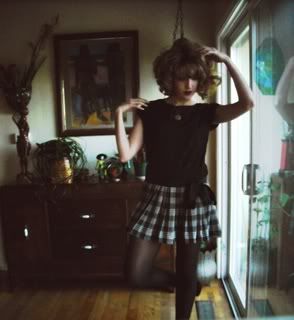 i've realized the root of the issue with my hair (accidental pun) is the slight a-line the lady who cut my tresses last gave me. it's not very flattering for my already long face, but im unwilling to go get some more length taken off so im just going to deal with it for now.