i wish i could pry myself away from the thrift spots, or at least cut it down to once a month, but i suppose when you factor in that i dont go to estate sales anymore (work) nor do i make the trek to the flea (work), it all evens out. lately, i've been accumulating a ton of straw hats and miscellaneous lingerie. one straw hat i had to give up today, sadly. maybe i should go back and get it, actually.. it had a sash running through it to tie under your chin, so romantic and summery
i've been wearing lots of lacy underpinnings in day wear to extend my wardrobe for work. i like layering them under dresses with thin straps, in exciting color combinations. last week i wore a robin's egg blue crepe jumper dress with a lantern and fan print with a cherry red lace vest. today i brought a huge haul: 2 bustiers, a black full slip with lace-y cups and an eyelet embroidered onesie. so good!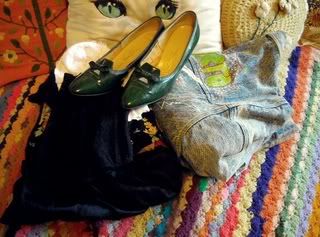 i wish i'd had a little more moolah, there were a good handful of things i would love to own other than the previously mentioned hat.. i found a cute little pendant of a pear, there was a floral velvet maxi, a few really good sweaters, a tatted choker.. i did buy my brother this amazing denim jacket though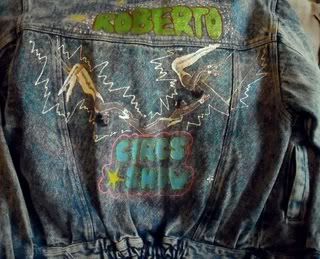 the green shoes read in the sole "Red Cross Shoes- this product has no connection whatsoever with the american national red cross" heh
i want to eventually sport a mantilla, or at least use one for a photoshoot. so good! i figure if i find the comb, i could use the black lace shimmy as a mock-mantilla.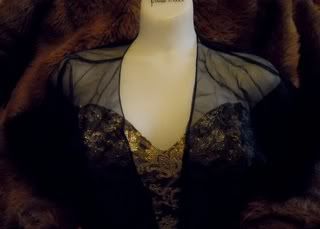 mmmmmmmmmmm so dreamy..