a few nights ago i went on a trip to lozz angelezz with my fellow guilty pleasure seeker zachary. it was an alright time and i got my picture taken.
i wore the crepe jumper i had previously mentioned with a rust colored garter belt from LaMeow and black stay-ups. i had my favorite scarf in my hair, a print of gold-hued faces melting into dead leaves. to keep warm i wore a velvet jacket with a little fur stole. my mom bought me one of those ermine stoles where the creatures are chained together biting the tails of the one in front of itself. it's very creepy, the way their dead legs flop around.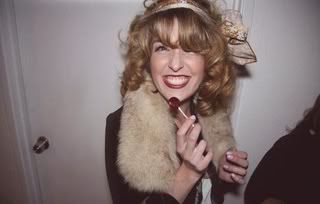 lately ive been reminiscing about my high school years and how much i now wish i would have attended my prom. this was brought on by an invitation by my best friend to walk in a prom fashion show for the mall, which is going to be really fun. at the time i wasnt even attending normal high school and neither was my then boyfriend, but i was still invited to attend the normal high school's prom, and opted out partially because i didnt like any of my classmates, but also because i wanted to please the guy i was dating and be too cool for that. i would have probably donned something completely hideous and regrettable but i'm pretty sure everybody else did, too. anyways..
i found out this week that i'm gluten intolerant, and since updating my diet to be gluten-free i've dropped a considerable amount of weight and feel spectacular. my brain-fog is decreased and i am just so happy that i've found the solution to this weight problem that has been torturing me for the last year or so. i have to take handfuls of vitamins right now in order to clean out my system and help my pancreas and spleen recover but i really look forward to seeing the change in my physical appearance and feeling the physical difference after a while.
it's definitely spring here and the way the air smells is just so nostalgic and delicious. there's a familiar smell that the porch outside my window gets in the spring and summer: warm wood with tar and some evaporating moisture. that plus my garden smells, all the flowers and oranges and grass and wet pavement. it almost makes me emotional. i dont know if it has something to do with my new positive outlook that's making me just want to close my eyes and breathe all day and be happy but i really feel like my life is going in a bright, new direction and i look forward to living the net few months with a skip in my step.