i went to a killer swapmeet with my mom yesterday, got plenty of cool little statues and figurines and pretty boxes and knick-knacks. i got a fantastic hat, its a blue cap with a big giant green rhinestone and quail feathers dipping out, and a puffer vest that i think could be a nice warmer-upper for the cold.i also bought a Captain Kangaroo puzzle, its wonderful and there isnt a single piece missing. ive been wanting to add a puzzle to my game collection but havent found one with a neat enough graphic worth my time.no lakes, swans, children or cottages,ive got standards!!
jens and dad were camping all weekend, it was nice having them away. i had bryan over for drinks, we made some gross food and flipped through my highschool yearbook.i hated my highschool years.i saw him driving the day after, it was funny.
i finally bucked up and cut my hair today, i havent even given it a trim since i cut it all off about 2 years ago,now.split end city.i bitterly cut off about an inch and now im sweeping red hairs off the floor...i still havent found an efficient way to cut my hair in my bathroom without getting fuzzies everywhere.
ive been having such strange and vivid dreams lately.i think its because im being bombarded with such interesting/maddening/wondeful events in my life.heres my outfit, ready to brave the fierce lovestorm outside!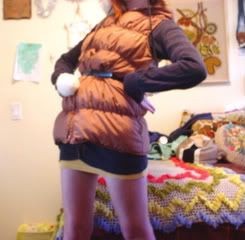 i need a bottom better than this.
winter shopping list includes tights, more more more.
my hunger for nylons is unsatiable.