im trying to learn to touch-type. ill writebt the rest of this sentence withoufbt erasing anyu of my mistakes....oosdfgsh i did okayu@!
translation - ill write the rest of this sentence without erasing any of my mistakes- ooh i did okay!
haha.
so guess whhhhhat!? the lovely monica burnett said she was going to put some of the pictures of my dress in her blog, the crocheted masterpiece. im excited, if she does ill post a link.
i had one of those terrible mornings where you dont want to eat breakfast and you dont want to brush your teeth and you especially dont want to get out of the bed and look at your ugly morning face.but i did when my mom asked to go to the swapmeet. i had a bowl of icecream and a chocolate bar for breakfast, and i didnt care how sugary it was because i hear chocolate is supposed to make you feel like youre in love.i got dressed in one of my brothers new dress shirts from yesterdays garage sale, and i felt pretty. i got many new things, like a set of pretty- rust colored berets and pillboxes and theyre Kangol! before LL Cool J i guess, kangol was a decent designer. i got an apron and pretty jars and boxes and some new things to sell. i got a big blue bow, a-la-Liebemarlene, and a cool 1970s anime briefcase-book bag-binder-thing with a pretty girl, a puppy and the words "My Time" written on it... i dont know if i should sell it or not.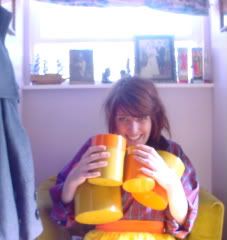 here are the cute tins i bought, with my new matching apron!
california is terrible, all dry and burning hot, i couldnt completely enjoy myself at the swapmeet with the knowledge that my skin cells were mutating with every new purchase. i almost passed out at the farmers market we went to afterward, but we bought guavas, persimmons, and apples and they were tasty and sweet.
thank goodness for chocolate, karyn, swapmeets and Four Tet.