im on the computer right now, and im supposed to be watching a video about the trail of tears, but im just listening to it instead, and typing this. the acting is so corny, anyway, that id rather listen than be distracted by the fat men in suede fringe and not learn anything.
i havent been feeling very nice lately, i feel lonely. if i cant have real-life friends, i wish i could atleast have internet friends.i think its because i see all of my other friends and they seem to have cool internet friends. i just dont.im so lonely. im going to spend this weekend at home, i just know it, and ill spend all of my other days at home too. until i get a job. it makes me sad. i dont even know if there is anyone i want to see, i just want peopleto want to see me.
i tried on some hats today, here is one of the kangol hats.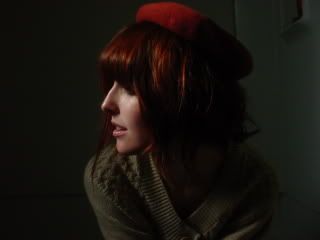 the little fez-like one didnt show up in the bottom picture, i guess.
i feel bad about not having a job anymore. when i was working,atleast my money could keep me company, and i could spend my dough on fun things. i dont know how long it will be before i have a new job, either. mabye it will be nice to spend more time with myself. i know that ill like spending more time at home making things, but i wont have anyone to show these things to. i dont want to find stupid ways to pass my time. ive decided that an ipod is what i need, i would like music to keep me company. sometimes what i want more than anything is to be musically talented.
i stopped paying attention to the video...
but
i wish i could sing well, or play an instrument. i need what i make and what i do to be more of a release. mabye im hoping that making things will completely absolve me of all my bad feelings. it probably wont. mabye i should try to get better at my roller-skating, instead
things to do this weekend
-paint ceiling
-trim bangs X
-wash tub/sink X
-homework
-finish all of my clothing alterations, or knock out a bit of it
-start on christmas presents
-write long diary entries X
-download new music
-organize closet
-sweep floor X
i feel so very lonely today. i hope it goes away soon.
one thing i want to do is find some new way to wear my hair. the last time i curled it, it looked too shiny, like bad prom hair. for some reason, all of the old hollywood starlet hairstyles look very raw, the hair sometimes lacks luster, sort of wiry. that might be from getting permanents, but its sort of attractive. the more shiny and silky my hair looks, the more i dislike it. i would like for it to be very very long, and then just keep it natural, with bangs, but its at an akward length, midway from my collarbokes to my bust, and (i hate using bust) and im just leaving it messy and sloppy. i dont mind it, im actually admired for my hair, but i dont like looking sloppy, i would like to look more polished. i like a sort of college-girl look with a touch of 1920s rich boy, right now, and the messy hair makes it look almost grungy. sort of a nice boyfriend sweater with mabye a pleated skirt, and a pair of white knee-highs. thats one thing i dont like about these hats, they are so hard to wear with plainer outfits, and they can look very costumey. id probably prefer to wear one with a nice coat, but im afraid thats just too much matte wool. its a shame.
i was to wear this hat, every day.