oh gosh, no new posts in a really long time.
ive been all over the place without a camera.and not doing anything picture-worthy probably, but here we are.
its 7:09 and im here in my computer room, very very tired. ive been homeworking my bottom off, i didnt do any work friday or saturday, and today ronni whisked(is it whisk?like the utensil?or wisk?) me away to the oceanside De Los Muertos festival, and i wasnt back until four-ish. I was practically begging her to hang out with me for a longer time so that i didnt have to come back home to this, but she was right.
birthday boy bryan and i went down to hillcrest on saturday for a shopping day, he got a cute jacket and a shirt, and mabye something else but i think i forgot.i got a neat corduroy skirt and a squirrel glass, and once i hem that sucker up ill show you, i like it alot.buffalo exchange was no good, not one bit. the people working there was jerks and morons and there wasnt anything i saw that i liked. boys clothes were alot better than girls clothes. im no graphic teeshirt fan, but it works so much better for boys than for girls. there were a cute pair of heels i liked an whole but they were too fancy than i could ever imagine myself in. we went to a double decker thrift store that smelled sort of funny up top, but it was more fun than any of the other stores we passed by anyways, i think.
we went to whole foods and around the corner from where we parked there was a poor rich (really!) arab with two pairs of pants on and corona boxer shorts. he had scabbed knuckles and i was imagining him either stealing the pants and getting beaten down, or being drunk and getting in a fight and getting knocked out...but with two pairs of pants on? i passed by twice and the second time he was still asleep, despite all the honks by proposition 2 supporters a couple of yards away. there was a priest who wasnt sure what to do and he turned his head away from the pavement, which was awfully nice of him. he reminded me of elton john in the face, and i liked him alot.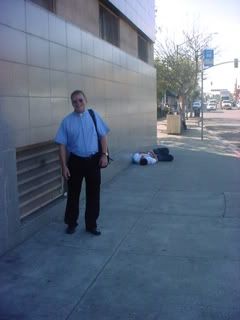 we went to carlsbad, where there were lots of pretty plants and lots of not so pretty ladies. i passed on a cool cool cool red childrens double breasted sweater coat. this mornings cold was perfect for it too.back in fallbrook, primo was closed, so off to pedro's we went. the burrito was tasty and i gave bryan my gift. i saw aimee and janice and some girls i used to know, all in a span of about twenty or thirty minutes. we headed back to my house and took dark pictures that made bryan and i both look very red.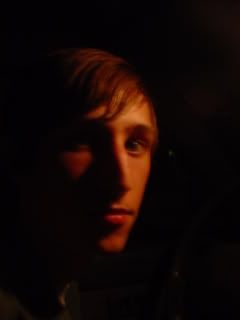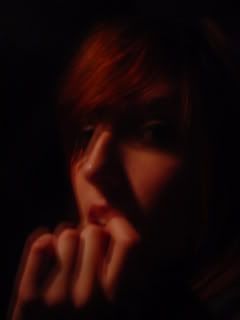 arent we a vision?
ive got alot to write about
today i went to the Swap meet for some swapshoppin, as my daddy calls it. it was slow at first but it got better and better, so good that i had a big problem carrying it all, especially to my favorite vendor, who happens to also be the very last stand.i got the most at his place, too and i felt very clumsy spilling pillows and socks everywhere, and even clumsier with my skirt blowing up in the wind and my hands too full to pull it down. i havent gotten any clothes,though, it makes me a little annoyed. i feel very uninspired.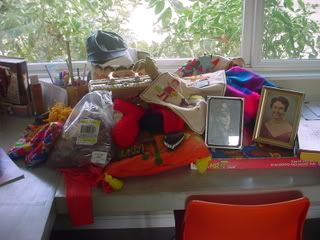 all of these unwearable things were prizes,though. those old portraits were dollar each and i got some fairytale wall hanging for cheap. there was a cool wastepaper basket and some pillows, and i got a mister T. board game!some socks were there, and a whole bag of pantyhose to replace my broken and missing ones. i also got a pair of knitted booties, they looked nice and were handmade by an old lady( just for me i bet). the little hat in the back is cute, its like the singer from AC/DC's and i wore it today.
ohhhh whatta world whatta world.
more on halloween tomorrow.