ive been so overwhelmed lately. one of my old friends is coming to stay for a week, ive got parties and playdates and responsibilities and projects to make and the worst part-outfits to plan for all of them. im stumped. ive also got homework to fit into the whole thing. i dont have a new calendar yet, either! im just going to have to hope luck sorts all of these things out on the right days and times...who knows, mabye ill get even luckier and find a 100 dollar bill on the ground to fund all of this!!!
when i was a kid, i was obsessed with tragic events, things like the sinking of the titanic or the holocaust or genocides. one that was a little bit easier to explain to other people was my fascination of the romanov family, poor lost princess anastasia and her gang. its easy to understand why i would love them so much, looking through old pictures of them is a treat, theyve got pretty long hair and big big silly outfits on in all of the pictures and their little brother was wearing dresses in some of them! they took so dreamy on their yachts and pictures with their pretty cocker spaniels. i also look a little bit like the sisters, their mother was a big german woman like mine. i imagine if i were a little russian princess i would have a big pretty dog with people to brush him, and he would sleep on a giant velvet cushion. i would wear pretty fur coats and have big tall boots.
its becoming a huge source of inspiration for me. the fabrege eggs and palaces decked out in gold not so much, but the cute way the little girls all had knots in their hair and mud on their pretty fancy dresses. they looked like such fun girls, my favorite princesses ever. ive been trying to emulate these girls in my outfits. i saw "roman holiday" with audrey hepburn a few nights ago, and a little of that went into this too.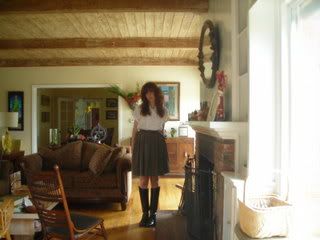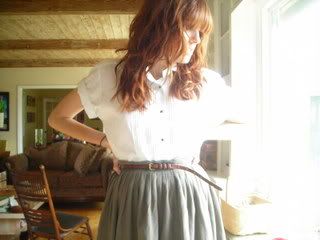 i trimmed the sleeves off of this tuxedo shirt and rolled them up. the shirt had two sets of functioning buttons on it, strange. i also wore my new riding boots i bought at the swapmeet (which came with matching riding pants)! it was pretty. alot like this-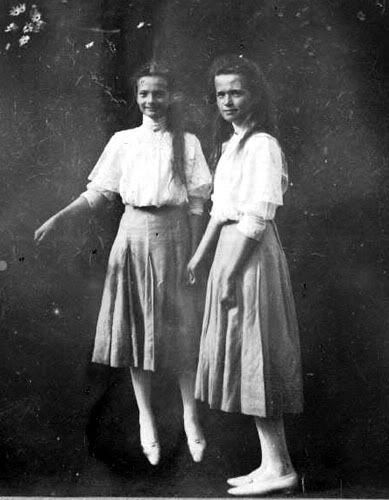 :)
ive found quite a few beautiful pictures here, theyre fun to look at. some of the girls got almost ugly when they got older, atleast thats the way they look in pictures. when they were tiny though they had such pretty petite faces with eyes very far apart and thin lips, such an interesting departure from the cookie-cutter faces you see here. its true, everyone in southern california shares alot of the same features. mabye theyre just european features we all share, all the blondes have the same jawlines and noses and bodies.
ive got to
-finish the embroidery on a skirt im making (ill show you, its wonderful!!)
-start on homework, god knows i wont get any of it done when ryan comes.
-get pictures of everything and post it
-clean my bathroom...
the list goes on for ages. now im off to organize some outfits, right after i finish my skirt though.
OH OH OH I GOT A NEW CAMERA, TOO!!
its pretty! better pictures now, indeed!