im in school right now, after a long long morning of boarding and getting off and walking to busses and trais and buildings. i woke up at seven, left the house at 8:35 for my 9:51 bus, which happened to be a gross exaggeration of how much time i really needed, and i ended up at the bus stop at 9 oclock with nothing to do. i went to ronnis house for the billionth time this week, woke her up, and played with her cat and puppy for a while until it was time for me to leave and let her eat her breakfast and brush her teeth and continue with the regular morning stuff that people do.
im excited to do this class. im homeschooled and the opportunity to meet new people is exciting, though im not expecting to meet anybody, really. most of the kids here are not very nice. i cant imagine people being too friendly over the dissection of a giant squid, either.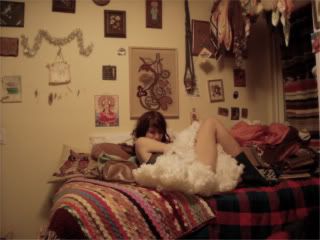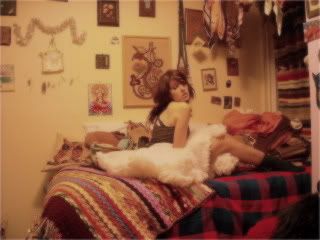 i havent been feeling good. im getting alot of things done, and thats nice. its nice to have things to do to take your mind off, everybody knows that, but its alot better when you have things to be excited about after you do it, or pretty things to think about while you do it. i took a handful of pictures for my etsy store last night, and i was glad to be busy, but you could read the look on my face and see that i was very angry, yes yes yes.
im going to call bryan tonight, i think. after i get off of school today, im going to go over to the mexican food resturant across the street, get a bean, rice and guacamole burrito, and walk down to the sprinter. then, ive got to take that into vista, where i board another bus back into fallbrook, thats where ill eat my burrito, then ill get off and walk all the way back. past the creek, flower fields, and down the big steep hill, then past the bus and goats and ponies, and home to my lil moustache cat. ill lay down and try to get started on a cool hair bow im making. its a bright blue felted bow, which i felted myself and am very proud of, and its got little doll heads all over it. im probably just going to use the santa heads, i like santa. im glad to have something to do with all of those doll heads i bought when i went back to illinois this year. then ill call bryan!!
i feel sick, i really do. it might be from squinting so much. its silly to say that having such delicate health makes me feel like a lady, but it does! feel precious! take care of me, somebody! id like for people to be able to pick me up and carry me like a baby. id like to get scared or shocked and faint, wouldnt that be demure?
today i like
- burritos
- poodle skirts
- white teeshirts
- sunscreen smell
- dry air
- chapstick
- Peter and the Wolf
- condiments
- velcro
- catcalling
- kool-aid
- text books and how the fit well into my arms
- my new golf purse
today i dont like
- necks
- smelly big dogs
- industrial parks
- no shade
- tourettes
- diets
- bruises
- nerves
- hairspray smell
- silly mistakes
- unrecycleables
- the smell of other peoples sweat
falalala
i wish i could listen to some music right now, but they can always hear it in this big echoing computer room..
im very in the mood for the beach boys