my day is going swimmingly, despite the fact my pointer fingernail seems like its about to fall off.
i went to the thrift store with mom and bought a bunch of cool seventies bowls, a mushroom-printed smock, some mini-cutlery for a project im making, and this cool little exersize machine. i got some yummy taffy at the fallbrook candy shop, id like for that place to keep open, its marvelous. we bought a bunch of candy like we usually do, then i got a spicy mango lollipop and my new favorite candies-Walnettos. mom bought a Turkish Delight, which i thought was something different, but hers was this bunch of cherries covered in chocolate- not usually my favorite combination, but she said it was very yummy. the taffy heated up in the sunshine and got tastier the longer it sat in the car. Walnettos are sort of like fudgy taffy pieces with walnuts in 'em and they taste a little like pecan pie.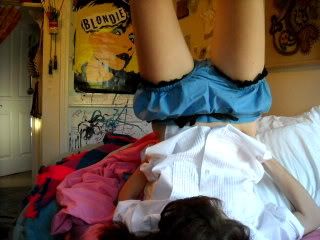 these are the new bloomers. i love them, and im going to make some more today, probably.ill make these ones a little less pouffy, and im going to monnogram my initials on them, id like them to look like old cute retro pajamas. mabye even with a pocket. next, ill try my hand at panties.
i wore the socks i was trying to give bryan in these pictures, they are so comfy and thick, i wish he would just take them, also because if i had them i would wear them out and get the dirty and feel bad about it, if i gave them to somebody else i wouldnt feel bad at all watching them get worn down.they are thick and white with big navy blue bands ontop.
i ended up forgetting about my diet today, i suppose. oh, well. jens left his ipod at home today, so i could just go for a long walk before the sun sets, i would so like to do something tonight, i think. this time i wont get so sauced because a hungover yoga class is no good for me, so ive learned. if i go out, i think ill wear that outfit i wore the other night to coffee out again- ill show ya.
gosh, sometimes i wish i could dance like the kids on americas best dance crew.. im stupid.