i like to start off my school mornings with a blog. it sets the tone for the rest of the day spent on the computer, and by blogging first i avoid those embarassing moments in the day where i just cannot do any more algebra and go to some pretty blog or putter around on etsy.
right now im really into this pleated skirt and cardigan thing. not big cardigans, actually im wearing a very pretty, well-fitting, beige sweater from the fifties, very boyish in fit. that, with a tartan , double breasted, pleated skirt, a favorite pair of red canvas mini-wedges with a burlap toe, and a feather barette. its very old fashioned collegiate virgin and i like that. i like looking pressed and ironed and groomed so that i can wear my skirt at the length i like most (short!) while still "keeping it clean". one thing that never really comes into play when im picking out an outfit is if its comfortable or not, but its very comfortable, in both a physical sense, and its a perfect combination of soft and squishy with prim, and its easy for me to do, a happy medium, indeed.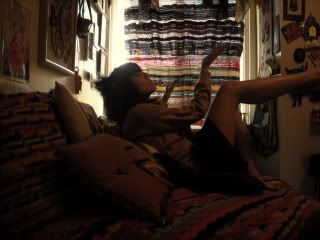 my kitty slept with me last night, which is never a very good sleep, but shes like a little heater and so soft, i love how she'll wake up in the middle of the night and kiss me, or paw my ears or mouth!
im breaking out.
i hate that.
my face is swollen and sore, and i was forced to cover it up with make-up which i know will make it only worse, but i like to look good at school. its just from stress, i know. let the healing begin.