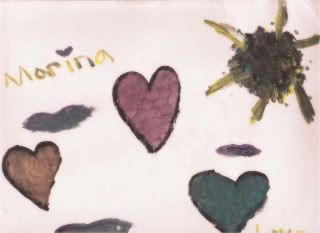 a girl in my art class made me this with fingerpaint, it was sweet of her.ive had it for years.
i dont know what to wear today, because ive spent all morning remembering what other stuff i have in my closet and its very overwhelmng, and since im not aware of half of the things in there, i dont know what to wear now.
i washed my hair today, i had a piece of chocolate, now my tea is steeping and that reminds me i need to put my thermos of yesterdays tea in the sink. after that... i suppose i should try to get ready. its hard to feel organized at all with this closet door broken. i like having the house to myself to turn the heater on,though, whenever i please. the warmth encourages me, i dont have to worry about being cold and stuck inside.
i remembered i need to fold the clothes after i take them off of the line..soon.
more later.