im not sure about todays outfit.
i never ever wear shoes with any sort of heel, unless its under an inch, to school. i make a point of it. but today im wearing an old pair of heeled tap shoes with four straps going across the front, theyre very junky which i think detracts from the sillyness of wearing sexy or extra-fancy shoes to school, which makes me feel more confident about it. im playing up the tap-shoe idea, so im wearing them with my hair up in a bun, black tights, and a biggish sweater, i want to look like a dancer in some broadway musical during practice, or something. ive seen some film of girls and boys at ballroom-dancing classes in the fifties, and they werent wearing tutus, but cardigans with their leotards, heels and even bobby socks. i thought it was delightfully sporty and almost festive, like a cute, undeniably feminine costume for exersizing in. it was sort of sultry,too, which im not going to try and pull at school, but i enjoyed the look thoroughly and think its a really unexpected way to try to do the fifties, even if nobody gets it.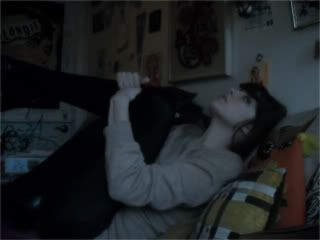 jenny just came by for a visit, im at school again. i got in trouble for guessing on my STAR tests, which i didnt even care about, but brought me to school all last week and drove me to the point of playing hooky on friday. ive got a meeting to get through and a bone to pick with my teacher. after that, its me and a big old box of indian sweeties my mom and dad brought back for me and b. (cause theyre vegan!) to look forward to eating.
i didnt bring anything to do.