i had a doctor's appointment today that got puched back an hour, and even though im trying to take the thrifting extravaganzas down a coupla notched as far as amount of stuff i buy goes, i ended up with this fantastic emerald green german hunting cape (with cobwebs all over it!) and a giant carpeted thingie for me and my brother's living room area. also, i bought a pillowcase that is a map of never-never land (the peter pan one) and made a onesie out of an old pair of long johns that im wearing out tonight into san diego with bryan, hoping not to be too cold.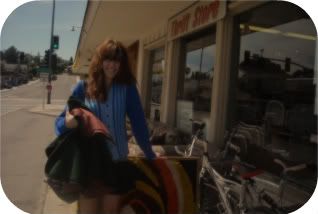 people whisper alot.
today i fixed 3 dresses, and this onesie, and im not going to be sewing anything too hard-core for a few days now because the sound of the BRRRRRRRR is about to drive me nuts.
ive forgotten to take vitamins for too long!
P.S. and they opened a new thrift store!by Fiesta Nutrition! go buy all of the thigns that i cannot!