in my fountain, frogs and dragonflies like to lay their eggs. my dad was a dummy and flushed out the pond to clean it, forgetting there were tadpoles still inside, so on easter sunday ronni and colin and i scooped as many up as we could with spoons and dumped the lil guys into some buckets. we took the buckets down to the river at the bottom of my house and set em free later that afternoon.
it was much more fun than an easter egg hunt, or alteast any vegan easter egg hunt i could have ever out together.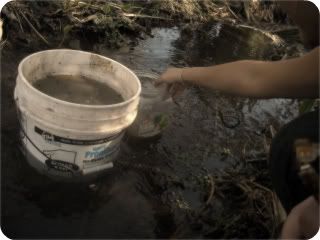 i really want to do something today. last night was a no-go, and ive got a few more days to myself before ive got to go back to school. making so many lovely things to wear doesnt mean alot, unless ive got a pretty place to wear it out to, so lets go out and have a picnic or something.