today, i gave in and went thrifting with my mom. i turned down a couple of things i didnt "need" but i got lots of things,too, that werent necessary for my survival.a pink polka-dot skirt, a cool aloha shirt that im going to make a skirt out of using a pattern i found on craftster, a stitched flower pictrure, two hats ( a hunting hat and a big black felt sun hat), and my favorite thing would be probably the 50's Learn to Dance! record.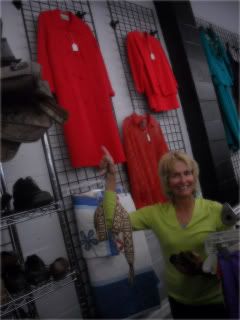 my mommy is pointing to a red coat that i didnt buy or need, with pointy pockets and a pretty collar.she bought some sugar cookies, a little baguette, and a biscotti at the new italian bakery in town, that had really yummy looking gelato under glass. the woman was really pretty and nice, and i got to see the back of the bakery.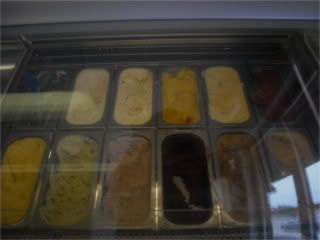 yum yum pistacio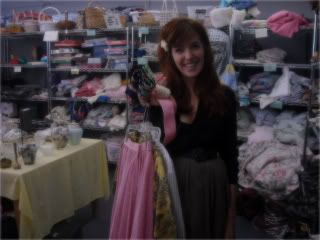 at st.vincent de paul's, with my findings. OH, i got a bunch of pretty hankies,too! one with a bear and another with a tennis player.
i wore a new bow that i made.
the reason why i wanted to shop in the first place was mainly to debut my new haircolor, which the baker complimented, and to find my sofa, but the sofa wasnt anywhere.
i felt so good this morning, even though its a little bit cold inside of my house.im going to spend some time in my room restoring myself and adjusting, then continue with the sampler im making. there are lots of things to feel good about.