im in cardigan hell.
tomorrow is the avo fest, and for an assortment of reasons im dressing to kill, with a dress freshly fitted, but in need of a topper. the balt/cardigan conundrum is nuts, there are like 4 sweaters that work, 3 or 4 belts that do the trick, and im truly at a loss. one doesnt look better than the other, none function better or snap better, theyre just all different colors and textures- a red nubby one, a mint cashmere one with pearl buttons, a plain black one, a peach one, a puppy vest,my furry vest.. well, the best accessory is a smile.
haha.
the san diegan show tonight ( i live a long time away from san diego, i dont know why things keep happening there) isnt happening tonight, and for good reasons. so after a bunch of scheduling and ordering and elevator music and re-scheduling and un-scheduling, my mom came home with a heapin pile of thai food for us to enjoy. the people running the store were chinese she said, and also served sushi, but no chinese food. it dissapointed me a little bit. i ate so much, but i havent eaten a dinner is such a long time, i forget how nice it is to have evening fuel. no worry, green curry!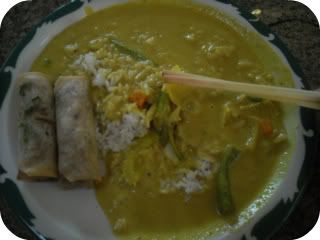 i was distracted by whatever was on food network as i was watching this. "Chopped" is the worst. they give chefs a handful of foods that dont match at all, like salmon, pistacios, peanut butter and portabello mushrooms and then the chef has to make a dish out of it. but tonight, they gave this chef not one but TWO ingredients he was allergic to and had never tasted before, and then they made the vegan chef cook with BABY octopus. the man who used to be the wine and food master from queer eye for the straight guy is the hostess with the mostest, but hes stinky,actually.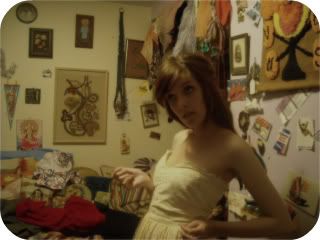 my boobs are fickle, shrinking and puffing, all of the time. its annoying.